Copyright © 2010 The Tarzi Family & The Tarzi Family Historical Society

Berlin  -  California  -  Geneva  -  Istanbul  -  Kabul  -  Kandahar  -  London  -  Moscow  -  New Delhi  -  New York  -  Rome  -  Washington D.C.

Homa Tarzi

   Members of the Tarzi Family have served as national and social leaders for Afghanistan and the region. Perhaps the greatest contribution comes from the prominent female leaders and symbols the Tarzi Family has produced. Today, we regard Mrs. Homa Tarzi as one of the social leaders who have broken the outdated mold of traditional custom. With Victorian beauty, studious intellect, and artistic talent, one can regard Homa Tarzi as an icon who has lived her life as a symbol of what a woman can achieve.

Early Life

Poetry and Writings

  Homa Tarzi would go on to express herself through the art of poetry and literature, winning her an award for "Best Poetry" in 1970. In college, her poetry was published in both Afghanistan and Iran. Soon thereafter, she finished her studies and graduated from Kabul University in 1973. She received a Bachelor of Arts in education and Language, receiving many awards in art and poetry. After college, Homa published a large amount of poetry in Kabul in Mirmon Magazine, Karwan Newspaper, and Pashtoon Jagh. She would also write short plays for Kabul Radio.

  Homa's poetry could also be found in Iran in Yaghma, Sokhan, and Etlaat Haftagi. Soon after moving to Iran, she would continue her education by pursuing a doctorate (PhD) in Persian Literature from Tehran University, the oldest and largest university of Iran. Sadly, Homa Tarzi could not complete her doctorate due to the Iranian Revolution.

Professional History

   After moving to the United States, Homa Tarzi would establish Homa Design in 1979, featuring one of a kind custom designs. These designs include bridal gowns, beaded evening dresses, tailored suits, dresses and accessories. After nearly a dozen years of business, Ms. Tarzi would become a company Manager from 1992 to 1999 for Bergdorf Goodman, the luxury department store in Midtown Manhattan (sister company to Neiman Marcus). There, Ms. Tarzi was responsible for the fitting and alterations operation of a $200 million women's designer and couture apparel business. As a company manager, she narrated and produced training videos, conducted training seminars, and produced a range of exclusive Bergdorf Goodman bridal accessories.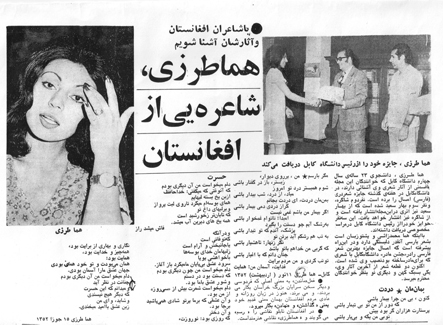 Born in Kabul, Afghanistan, in 1951, Homa Tarzi is the youngest child of Muhammad Siddiq Khan and the grandchild of Muhammad Zaman Khan Tarzi. As Afghanistan was slowly modernizing under King Zahir Shah, Homa Tarzi would grow with the revolutionary and strong spirits of the Tarzi Family, which she illustrated at the young age of 19. The Karwan news paper set out to choose Afghanistan's Teen Princess (Dukhtar Shayesteh). Unfortunetly, when the project was announced, no Afghan girl had the personal will to participate and nominate themselves for the challenge. That is when Homa Tarzi stepped forward, at the appeal of the contest organizers, and announced herself as the first candidate. This move, unprecedented at the time, encouraged and empowered other women to join. Homa withdrew after numerous women joined the competition since her goal of serving as an empowering symbol was complete.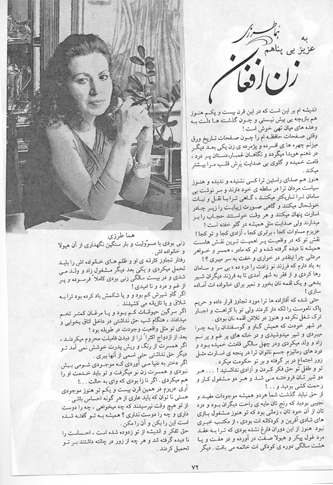 The Works & Designs of Homa Tarzi

Tarzi Family Historical Society Exclusive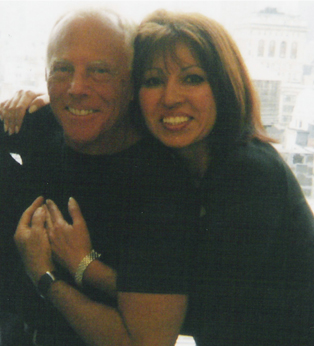 Ms. Homa Tarzi with grand couturier and legendary designer

Giorgio Armani

    After a successful run at Bergdorf Goodman, Ms. Tarzi would become a Senior Director for the Giorgio Armani Corporation in the United States from 1999 to 2008. At this senior position, Ms. Tarzi was responsible for the productivity and financial performance of all alterations departments within the Giorgio Armani and Emporio Armani locations within the United States. She directly managed the New York City central alterations workroom which services the Giorgio Armani and Emporio Armani flagship boutiques. Additionally, she established initiatives for all retail environments; created alterations standards, policies and procedures and trained both the alterations and boutique staffs on an ongoing basis; and devised a company-wide method of tracking productivity. 

After nearly a decade working with the legendary Giorgio Armani, Ms. Tarzi moved on as a Director for Lord & Taylor, the oldest upscale-luxury department store chain in the United States. At Lord & Taylor, Ms. Tarzi's responsibilities include management of alteration operations and both financial and production performance of all 46 stores within the United States. Ms. Tarzi's intellectual prowess, management ability, and creativity has launched her as a premier Afghan and American business woman.

I Promise You Tomorrow

By Homa Tarzi

Translated into English by Ahmad Ebrahimi

Barren is time

Pain lowering the ceiling of your abode

Disenchanted with your capsized world

More at home with death than living

Yet looking at your sign

My heart vividly sees that

You are missing the point

That despite your readiness to give up

Tomorrow is pledged to you

I urge you

To look forward to the unexpected

I urge you

Not to dismiss untraceable terms of endearment

And not to discount kindness unforeseen

I urge you to stay on

To safeguard all that you stand for

You think you have been short-changed

But the coins left to you inadvertently

Are unique and rare

Constituting the undiminished capital

To invest in future of the 'kind Man'

And to collateral

Against undiminished pain and personal deprivation

In your little room for maneuver

You are not alone

In this quest for carrying on

With a fatigued body that wants to rest

Even if mind is defying cancer from within

I urge you to

Plant hope this very day

When everyday is a blessing

And your plants are jesting growth and health

In colour and stealth

I urge you to

Light that candle tonight

Candidly

In "heart of darkness"*

When you are looking into the abyss

And to read the testimony of tomorrow

That unravels your twisted path into serenity

I urge you to consider

Because Kouchi, the maiden lass from Kabul

Is standing with me

Is standing with you

At all times

Discharging the bounty of her unconditional love

Displaying the generosity

That is anchored in pure blue waters of Rajistaan lakes

Kouchi's voice coming from deep like a fountain

Reaching you when you are at the threshold and almost gone beyond

Telling you to have faith

In yourself

Listen to her at this 11th hour!

She is telling you:

"YOU ARE A CHILD OF THE UNIVERSE!

BE GENTLE WITH YOURSELF"

*"Heart of Darkness" is the title of the short masterpiece written by Joseph Conrad

Beyond the Clouds

By Homa Tarzi

Translated into English by Ahmad Ebrahimi

Beyond the transient clouds at 12 O'clock

Beyond ephemeral hint of overcast

All morning and afternoon

Eyes are focused

On the Sunshine that is distancing

On the horizon

Beyond this hejraan, separation

Is our lasting bond

Memories

Unconfined to a life-time

Are not fleeting

Yet we have - on occasions -

To remain steadfast

Continue our devotion to our pledge

To stay put as custodians of time

When bodies are holy

But nonetheless live forgivingly short

You are my 'body' beyond this body

Like clouds

That in the last instance

Have no prerogative

Have no say

On the issue of

Time-continuous presence of the overwhelming sun

The sun!

So distant and so close like a Satan-friendly God 

And becoming part of everyone like a tan!

Clouds do not cloud

And love between us

Is permanently present, past and future.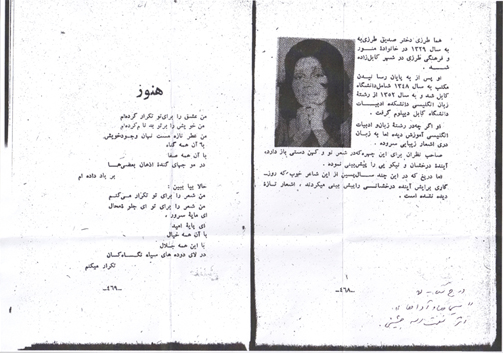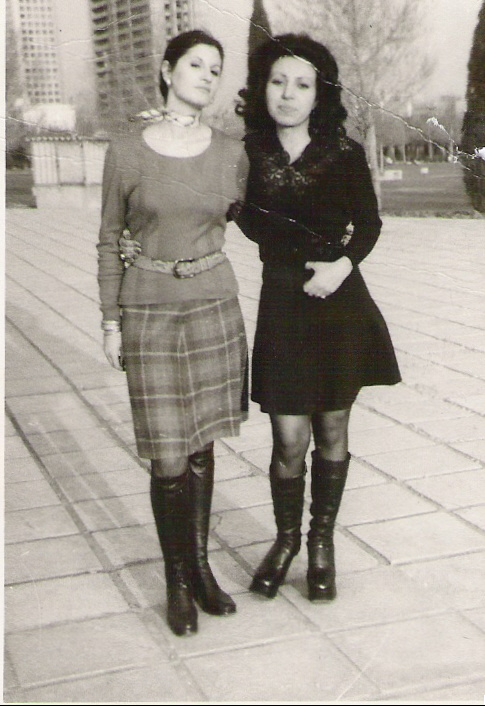 Homa Tarzi in Tehran with close friend and Spanish author Ana M. Briongos. Ana Briongos' book, Black on Black, includes references and stories about Homa Tarzi.

Sample Poetry by Homa Tarzi:

Ms. Homa Tarzi currently resides in the United States. She still writes and produces poetry and enjoys spending time with her family - while continuing to live her life has a symbol for little girls in the United States, Afghanistan, and around the world. We urge you to continue learning about Ms. Homa Tarzi and explore her artistic capabilities at
www.HomaTarzi.com
!