Copyright © 2010 The Tarzi Family & The Tarzi Family Historical Society

Berlin  -  California  -  Geneva  -  Istanbul  -  Kabul  -  Kandahar  -  London  -  Moscow  -  New Delhi  -  New York  -  Rome  -  Washington D.C.

Do you see something missing? Have some more detailed information? Saw an inaccuracy? Let us know!


Mr. Rouhullah Khan Tarzi is a famed public servant, diplomat, artist, and now family patriarch of Mohammad Seddiq Tarzi's house. Rouhullah Tarzi was born in Kabul during a revolutionary time for Afghanistan in 1934, the same year the country was recognized by the United States and admitted into the League of Nations.

Early Life

Rouhullah Tarzi attended and graduated from Estiqlal (French) High School. He would win a national award for his art and sculptors, the first of many he would receive. Soon thereafter he attended Kabul University, finishing his studies in Law and Political Science in 1961 - during turbulent times in Afghanistan as tensions with Pakistan arose. As Afghanistan's role increases on the international stage and the Foreign Ministry expands its influence and operations, Mr. Tarzi begins what will be a long and honorable career in the Ministry of Foreign Affairs.

Public Service

Mr. Rouhullah Tarzi entered the Ministry of Foreign Affairs in 1962, staying in the Ministry headquarters in Kabul until 1966. During Mr. Tarzi's tenure in Kabul with the Ministry, Afghanistan's foreign affairs was expanding rapidly. The Foreign Ministry was working diligently with other nations and world powers in order to receive economic aide and development. The United States expressed its willingness to make funding commitment over a five-year period and the Soviet Union built a hydroelectric plant in northern Afghanistan. In 1963, a Soviet-Afghan trade protocol is signed in Moscow where Afghanistan exports wool, cotton, and fresh fruits for steel, oil products, and consumer goods. Later that year King Zahir Shah would pay his first State Visit to Washington D.C., as a guest of President John F. Kennedy.

Rouhullah Tarzi meeting with Iraqi President Ahmed Hassan al-Bakr during Mr. Tarzi's mission to Iraq.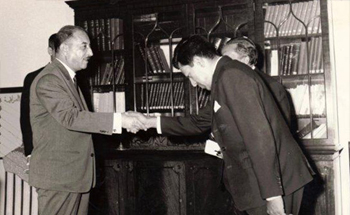 In 1966, Mr. Rouhullah Tarzi began his first Diplomatic Mission in Baghdad, Iraq. During this time the Ba'ath Party was in power under the leadership of General Ahmed Hasan al-Bakr as President. Iraq saw its share of instability the years Mr. Tarzi was there, such as the remaining remnants of the Barzani and Kurdish militia from the 1961 rebellion, as well as a communist insurgency that occurred in southern Iraq. As a representative of Afghanistan, Mr. Tarzi was in charge of all Consulate affairs in regards to issuing visa's and other documentation. Some estimates put the Afghan population in Iraq at nearly 10,000 during Mr. Tarzi's tenure there. This did not include the 20 to 25,000 Afghans traveling through Iraq for Mecca and Karbala. Mr. Tarzi would serve as a representative of Afghanistan to Iraq from 1966 to 1979.

Roouhullah Tarzi, after a brief return to Afghanistan, took on his second diplomatic mission to Islamabad, Pakistan in 1972. Within his first two years in Islamabad, Mr. Tarzi would see a coup in Afghanistan while tensions with Pakistan increased over Pakistani meddling in internal Afghan affairs. In 1975, Mr. Tarzi played a critical roll as the Liaison on behalf of Afghanistan for the Islamic Conference in Lahore. The conference, bringing together all the Islamic states throughout the world, produced an Islamic Solidarity Fund, strengthening of international economic relations, as well as numerous resolutions geared towards the turbulent situation in the Middle East during that time.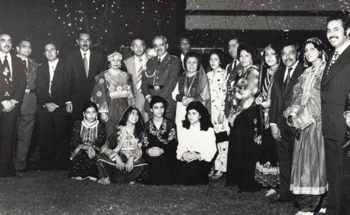 Mr. Rouhullah Tarzi and Ambassador Etimadi with Afghan Embassy staff in Pakistan.

Mr. Tarzi was also instrumental in making the diplomatic arrangements of Pakistani Prime Minister Zulfikar Ali Bhutto's visit to Kabul, leading to both countries to respect the territorial integrity and noninterference in internal affairs set forth by the 1955 Bandung Conference of Asian and African nations. Soon therafter, Mr. Tarzi would work diplomatic chanels and make the logistical arrangements of Afghan leader Daud Khan's visit to Islamabad and meeting with Bhutto, reaching a tentative agreement on a solution to the Pashtunistan problem. 

Later Years

Mr. Rouhullah Tarzi's diplomatic service would end with the overthrow of the government in Kabul. In 1978, Mr. Tarzi would move to the United States settling in New York. Mr. Tarzi dedicated many years to Afghanistan and public service. As the eldest son of Mohammad Seddiq Tarzi, he would become the patriarch of his house for the remainder of his life.